Woohoo penguins! After a long week's work, the Sport Shop is FINALLY restored. but it's not a Sport Shop anymore. It's an ordinary phonebooth! But believe me, theres nothing ordinary about this phone booth. The secret is that it's actually the gateway to the new EPF Room! Alright so I bet you all are anxious to learn how to get inside. So here's what to do.
Step 1: Click your spy phone and this message should appear. Click "Go There".
Step2: You will be the only one in the Phone Building. The camera's will scan you then the phone will ring. Pick it up.
Step 3: A target will then appear from the wall to test your skills. through a snowball at it.
Step 4: Go to the Green square where you will be locked in. Get ready to run to the Red Square for a quickness test.
Step 5: Run as fast as you can to red square!!!!
Step 6: Your next task will be to hide so that you won't be seen. The camera will be off so hide behind the bottom right pillar.
Step 7: They now want to test how smart you are so they plan to lock you in a cage. Through a snow ball at the generator to break it.
Step 8: Congratulations! You have now completed the test and there will be an EPF Elevator for you that will take you to the Headquarters.
Step 9: It will take you to a secret EPF Headquarters as shown in one of Billybob's Sneak Peeks where you can chill out.
What do you guys think of the New EPF agents? There are no more PSA agents now. Oh and by the way, you can enter your code from your Herbert's Revenge game to recieve some awesome EPF clothes, a Puffle Whistle, and an EPF Puffle! Check out this penguin with his EPF Clothes and EPF Puffle in action!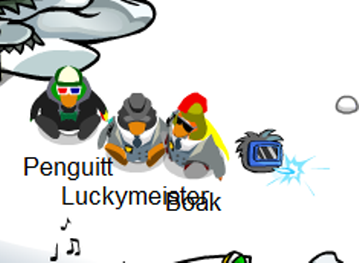 Here is what you unlock when you enter your code. (Puffle Whistle For Members only)
Comment and tell us what you think!
Waddle On,
~Penguitt